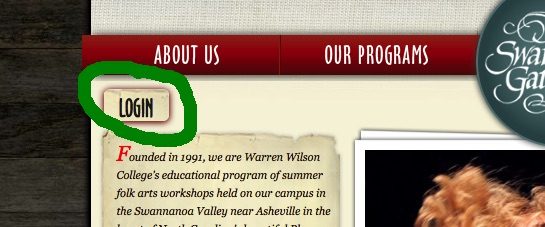 If you don't know your username, email used, or password, email gathering@warren-wilson.edu
Once you are logged in, your page should look like this (except your name, not mine!)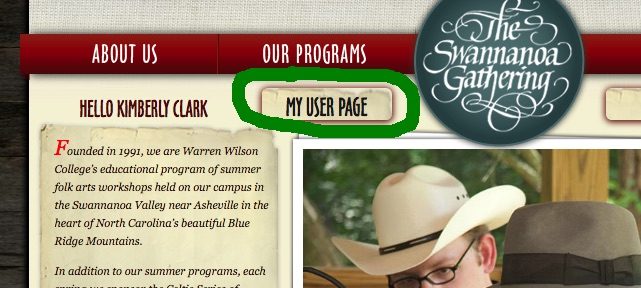 If you are not seeing certain buttons or there seems to be something missing, you may need to update your browser. Chrome works best and if you are having trouble on a phone or tablet, you may need to switch to a computer.
Registration:
– If your class selection/registration form is not showing a certain class on the drop-down for a particular period or if it is listed as "Closed" it means that the class (and waitlist) are full for that class.
– Any housing requests or any additional comments or info can be put in the "Notes" section on the form, found in the housing section of the form.
– If you already paid a deposit/carried a deposit over/or aren't sure if you owe any deposit, you can select "deposit" on the form and not pay anything at this time.  We will be in touch. No monies, other than deposits, are due before May 31st, but you can make payments using the same link, at any time.
– Proof of vaccination/ID: If you are having difficulties with getting this information to us, we will work with you. The deadline for submitting these files/documents is March 31st (Unless you register after that date). Otherwise, we may have to cancel your registration (we would be in contact BEFORE doing so). If you need to submit updated information later on, that is fine (such as you will be getting your booster after the deadline, but before camp). Just send us what you have currently. This is the upload link: https://forms.gle/Xygix5ftAKQzNXa69.   We will accept emailed or mailed copies, but please try your best to use this upload form first. It is also the most secure method. If you are mailing your copies, please give us a heads up.
– If you are taking a class that is double length (has a cont'd) in the next period on the schedule, you would leave that next period blank on your submissions, as signing up for the 1st half automatically means you are in the 2nd half. You cannot just take the 1st half of the class each day.
– A children's program is NOT being offered this year in any of the weeks. Vaccinated children are still welcome to attend with you.
-If you need to make any edits to your registration, please email gathering@warren-wilson.edu with the requests.