Step 1: Register Here! if you haven't yet.
Class Changes:
If you want to make any changes to your schedule, email Kimberly Ann (gathering@warren-wilson.edu) your request. As long as the requested classes aren't too full, changes can be made. PLEASE try to communicate change requests sooner than later, but they are possible up until the "last minute". If you attend the first day of a class and decide you want to change, you will need to email me ASAP that same day. No changes can be made after 7:00 PM Eastern Time, the first day of classes for each week.
Step 2: Make sure that your website login works! Click the Login button on our Homepage. If you experience any issues with logging in, please email gathering@warren-wilson.edu for support. Test this NOW- do not wait until the days leading up to SGOnline! The button may be located on different areas of the page, depending on how your browser window is configured.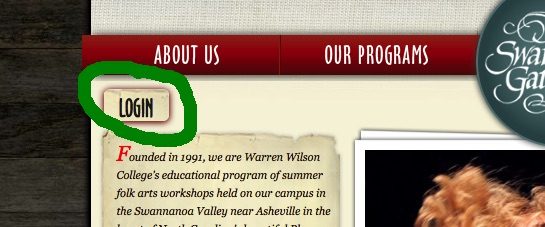 Step 3: Make sure that you can see your schedule on your "My User Page". This is where you will click on links to join your classes.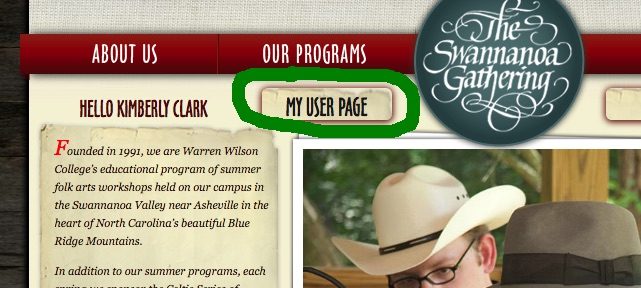 Here is an example of a schedule as it might appear under a User Page. This one is from a test registration under Kimberly Ann.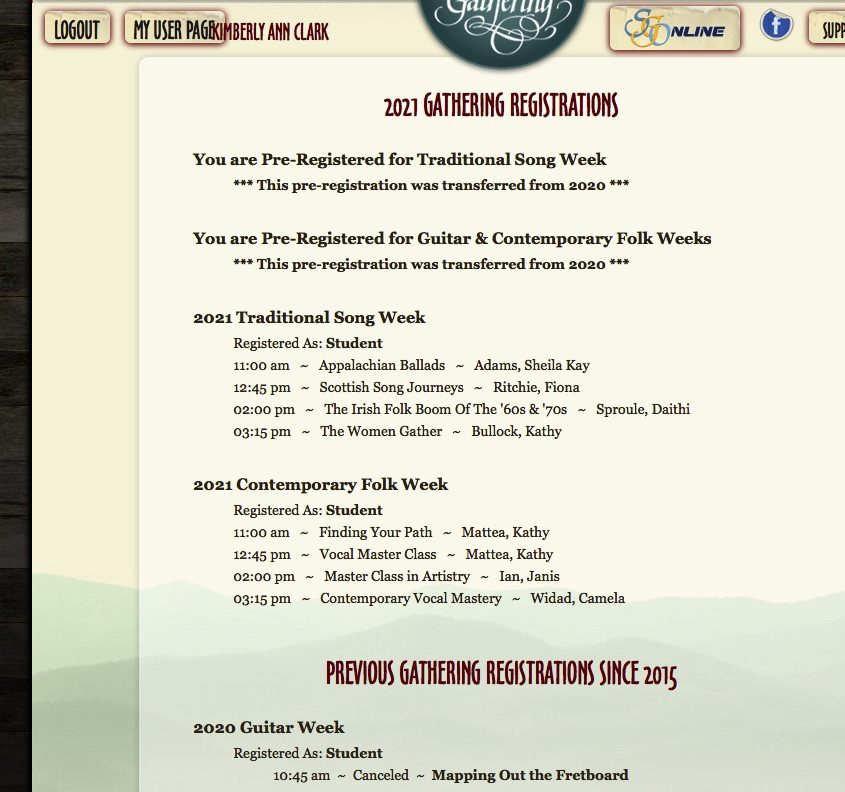 In the coming weeks, you will start to see the following also appear on your "My User Page"
-Sunday's Orientation Video will appear on the Sunday of your week. (This will remain available throughout the week if you have other Sunday night plans.)
-Class links (won't work until game time) These will change to recording links after the class session (usually within a few hours).
-Class Handouts from your instructors. These will be available the Monday before your week starts, so a week in advance. If an instructor wants students in one of their classes to have class handouts more in advance, you will be emailed. Not all instructors use handouts and some prefer to email you handouts after material is covered, so if you don't see any handouts, it's okay!
-Links to join Evening Sessions (Want to create an extra session with some friends during the week? Email Kimberly Ann at gathering@warren-wilson.edu)
-Friday night's Staff Concert will be posted on Friday evening (Available to view through the weekend)
-Post SGOnline, an attendee contact list will be posted for the week you participated in. This will include any students or staff who wish to share their contact information.
-Post SGOnline Survey: A survey will be posted for your feedback. Your feedback is important to the the admin team and to the instructors.
Step 4: Have you Paid your Balance? Those who registered before the end of May, your balances are due by the end of May. Those who register after May 31st, must pay in full at time of registration.
Step 5: How comfortable are you with Zoom?
Why re-invent the wheel? This webpage is a fantastic resource. Thanks, Anton Schwartz! https://antonjazz.com/2020/05/zoom-for-music-lessons-clinics/
Zoom Meeting Controls for Participants:
Additional Tech tips:
– General Zoom tips: https://youtu.be/SNngG397TLU
-Make sure that you have the latest Zoom download/update.
–If a class session freezes, the instructor will restart the session and you will need to re-join the session. 
-If you haven't yet realized the life-changing potential in multiple screens, you really should! This is NOT needed to participate, but is especially helpful when sharing your screen (songwriting classes) or wanting to have class handouts up on a screen, instead of printed out. If you try this for the first time, please spend some time feeling comfortable with the set-up. Dual Monitors: https://youtu.be/qvoXMStoNcw
-Using a headset or headphones and a microphone will result in a much better experience than just your computer's audio. Again, NOT a must.
-Only have relevant things running on your computer or device. Close everything else, including those hundreds of browser tabs…
-You have a web cam, right? (Built in or usb). You could participate without one, but it won't be the same experience. Multi-camera set-up: https://youtu.be/NBdXCk58UxU
-Here are a few videos about set-up for music. Visuals!
More General Tips:  https://youtu.be/8ijbIQ_3T0M
Spotlighting Speakers: https://youtu.be/HcPSDneJWJU
Screen Sharing:https://youtu.be/25Awq_v1Zms (Our Default is that students CAN share)
Share screen AND spotlight: https://youtu.be/XYjCm4e3sB0
Whiteboard:
https://youtu.be/jQ4-wrwHAxk (Start at minute 1:37) (Launching whiteboard)
https://youtu.be/ZEaq5huD-gE (annotation tools)
https://youtu.be/WxlFXOSFqn4 (annotating existing/prepared documents)
Immersive View (older devices may not support immersive, backgrounds, or filters):  https://youtu.be/RwzdPHp4hM4
Join a test session on Zoom (https://zoom.us/test) You will be the only person, but it will let you test your video and audio at a basic level.
Practice with a friend or family member! Do a Zoom call with your sister, parent, friend, grandchild, ….
Practice Zoom Sessions with the SG Office:
These will be group practice sessions where we can all test our set-up and skills together. Please watch the above recommended video tutorials before joining a practice session.
All times are Eastern Time. To join a session, click on the time, below, for the session you wish to join.
June 17th:  2:00 PM        6:30 PM        9:00 PM
June 19th: 12:00 PM
June 23rd:  3:00 PM       7:00 PM        10:00 PM
If you cannot make one of these sessions and need Zoom help, please email Kimberly Ann at gathering@warren-wilson.edu
From the 2021 Catalog: "While not required to join meetings, we recommend downloading and install­ing the Zoom app. It's free. Your device should have speakers, a microphone and a webcam. The quality of your internet connection makes the biggest dif­ference for the optimal experience of a Zoom meeting. Poor service from your internet service provider (ISP) or a weak signal in terms of distance to your wi-fi router will directly affect remote connections, particularly for virtual private network (VPN) systems. As a general guideline, a download speed of less than 12 megabits per second (Mbps), an upload speed of less than 3Mbps, or high latency will result in a negative experience. You can use tools like SpeedTest. net to verify your device's capacity. To maximize your available bandwidth during a Zoom call, many have reported better performance when all other browser windows and tabs are closed. We encourage you to review Zoom's recommended minimum requirements for virtual meetings: https://support. zoom.us/hc/en-us/articles/201362023-System-requirements-for-Windows-macOS-and-Linux."
Step 6: Game Time!
While I wish we had some traveling house elves on staff, we cannot help you with your internet connection. When in doubt, re-start your modem, router, and computer/device.
You should have confirmed your website login in advance (Please do this!), but if you experience a problem, email Kimberly Ann at gathering@warren-wilson.edu. Please do not call the office – I will not be able to keep up with the phones and we would like to reserve them for Instructor support. If a phone call is necessary, we can initiate that after an email.
If you have a zoom-specific question…you got it, email Kimberly Ann! I'll be monitoring for questions and email is the fastest way to help the most students!
Look at your camera, when talking, as much as possible!
If you notice someone in your class session who is not a registered/enrolled student or SG staff, please immediately alert the SG Office by email (gathering@warren-wilson.edu) and send a private message to your instructor. This is unlikely to happen unless a student inappropriately shares a class session link. Kimberly Ann (SG Operations Manager), Jim Magill (SG Director), Doug Orr (SG Founder, WWC Host) and wife, Darcy Orr, and SGOnline class Instructors may pop in and out of classes to observe or monitor.
Remember that we are online, so there is no way to guarantee 100% privacy. Just something to keep in mind when sharing.
When your mic is on, make sure that your computer notifications are turned off, turn alarms and notifications off on your phone or smartwatch, turn the sound on your phones off, maybe even take your landline off the hook (landline? What is that?). I love dogs, but no one wants to hear them during a session.
Enjoy this experience! While we would all rather be gathered in person, SGOnline is a way for us all to connect as we experience the worries of the pandemic recede.
By and In participating in SGOnline 2021, a program of Warren Wilson College, you agree to not share any class session Zoom links, Orientation videos, evening sessions, or Staff Concerts with anyone not officially registered/enrolled in the specific class (for class links) and week (for evening sessions or videos). You agree to not make any recording of SGOnline class sessions, evening sessions, or videos and concerts. Additionally, you agree not to share any class materials/handouts with anyone not officially registered/enrolled in the class without permission from your class instructor. You understand and acknowledge that while class sessions will be monitored for unregistered/enrolled students, that there is no way to 100% guarantee privacy in online classes or sessions.      Instructors can approve AUDIO only recordings of their classes, at their discretion. 
By Participating in SGOnline 2021, you are agreeing that you understand, acknowledge, and agree to the above statement.