(NOTE: This is a description of last year's program. The info will be updated for 2022 when our catalog is published in March)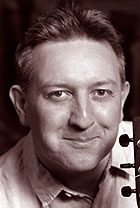 Acclaimed guitarist and composer Clive Carroll has created a sound world all his own, with a signature blend of warmth and humour that belies his dazzling technical skill. His masterful compositions feature influences mined from the delicate cadences of Elizabethan lute classics, the imaginative eccentricity of Frank Zappa, visionary classical composers such as Bartok and Ligeti, and hints of jazz and Delta blues. Clive made his musical debut at age two as a banjo-strumming cowboy singing nursery rhymes, and went on to earn a 1st Class Honours Degree in Composition and Guitar from London's famed Trinity College of Music. He has worked with such guitar greats as John Williams, Ralph Towner, Tommy Emmanuel, Xuefei Yang, and John Renbourn, as well as pop icon Madonna. Acoustic Guitar magazine calls Clive, "Probably the best and most original young acoustic guitarist/composer in Britain", and Total Guitar magazine included him in their "Top 10 Acoustic Guitarists of All-Time". His latest solo CD, The Furthest Tree, has been called "sensational instrumental music that knows no boundaries."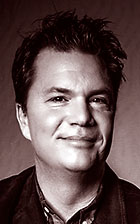 Sean combines many diverse musical influences with unconventional techniques to create a broad palette of textures for solo fingerstyle jazz guitar. His first recording, River Coffee, won the Best Independent Release of the Year Award (2002) from Acoustic Guitar magazine and music from the recording has been published in Japan's Acoustic Guitar magazine and Mel Bay's Master Anthology of Fingerstyle Guitar, Vol. 3. His subsequent recordings, Indigo, and Sphere: the Music of Thelonious Monk offer compelling portraits of jazz standards performed on solo electric archtop guitar. Sphere was named one of Acoustic Guitar magazine's "Essential Albums of 2011", and Sean was featured on the Summer 2012 cover of Fingerstyle 360 magazine. Recent recordings include Thanksgiving & Christmas Tidings, a collection of seasonal hymns and carols arranged for solo guitar, and My Fair Lady, a collection of songs from Lerner & Loewe's masterpiece. Sean has performed at such festivals as the Novi Sad International Jazz Festival in Serbia, the Healdsburg Guitar Festival in Napa Valley, Copper Mountain Guitar Town, the Newport Guitar Festival, and the Chet Atkins CAAS Convention. He has also collaborated with several dance and improv companies, as well as with jazz and acoustic musicians throughout the Rocky Mountain region. Sean is an avid arts educator and currently serves as an Associate Professor of Music and the Guitar Program Director at the University of Colorado, Denver. He conducts workshops at colleges throughout the country, incorporating a  holistic approach to playing to prevent injuries. He is also a contributing editor and educational advisor for Acoustic Guitar magazine, and the author of the Stringletter book/DVD instructional projects, The Acoustic Jazz Guitarist, Fingerstyle Jazz Guitar Essentials and Holiday Songs for Fingerstyle, as well as Fingerstyle Jazz Guitar Survival Guide and Walking Bass & Comping for Jazz Guitar, both available at  TrueFire.com.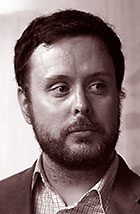 "An exciting young player who, despite a plethora of influences, now sounds like nobody but himself" proclaims The Fretboard Journal about New York City-based guitarist Grant Gordy. In recent years, Gordy has emerged as a major voice on the American 'acoustic music' scene, and become one of the most highly-regarded young instrumentalists of his generation. Having served for six years as guitarist with the legendary David Grisman, he's also worked alongside such musical luminaries as Darol Anger, Edgar Meyer, and Steve Martin. In myriad collaborative capacities he's performed all over North America, Europe and in India. Gordy's instructional skills have been sought by hundreds of private students and by camps such as Rockygrass Academy, Steve Kaufman Kamp, Haapavesi in Finland and Sore Fingers in the UK. He has received attention from international music periodicals such as Acoustic Guitar magazine, Japanese bluegrass publication Moonshiner, Just Jazz Guitar, Flatpicking Guitar magazine and No Depression, who describe Grant as: "a special musician… While a bluegrass musician at heart, Grant's incredible breadth of harmonic and rhythmic knowledge from jazz gives him a strikingly singular voice on the guitar; one that is worth giving your attention."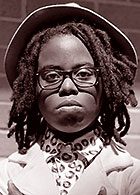 Yasmin Williams is an acoustic fingerstyle guitarist with an unorthodox, modern style of playing. She grew up in northern Virginia and was introduced to the guitar after playing the video game, Guitar Hero 2. She uses a combination of fingerstyle and lap-tapping guitar techniques, with percussive sounds to play melody, bass, and drum parts all at the same time, creating sophisticated and intricate compositions that have raised the bar of what is possible to play on the acoustic guitar. Yasmin graduated from New York University with a degree in Music Theory and Composition. Her debut album, Unwind, released in 2018, has received favorable reviews by NPR Music, Acoustic Guitar magazine, Vintage Guitar magazine and other publications, and has charted highly on iTunes, Amazon Music, and the Billboard Heatseekers chart. Yasmin has performed at the Kennedy Center, Woodsongs Old Time Radio Hour, WUSA9 Great Day Washington and other venues and television shows.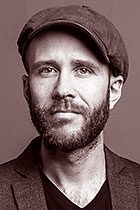 A French-American musician based in Paris, Cory began learning fingerstyle guitar and clawhammer banjo during his adolescence in the US. This led to numerous encounters with some of the great fingerstyle guitarists, exploring the rich repertoire of American blues, folk, jazz and gospel, but trips to Africa and the discovery of native fingerstyle techniques changed everything. His style became more and more syncopated, polyrhythmic, and cross-pollinated, and his approach less and less academic. After a decade of touring with the roots group Groanbox, he moved to Ethiopia for three and a half years, collaborating with myriad artists, creating the bands MistO-MistO and Damakase, which mixed Ethiopian music with other African styles. He's worked on a documentary on some of the few remaining omutibo-style guitar players in western Kenya, and has begun a collaboration with Senegalese musician Amadou Diagne. He's released two solo recordings and recorded three instructional videos for Stefan Grossman's Guitar Workshop.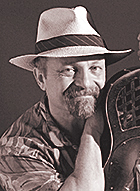 Toby Walker | www.littletobywalker.com
Toby Walker has been hailed as an internationally- acclaimed roots music fingerstyle guitar wizard who has toured the US, England, Wales, France, Germany, Belgium and Holland. He has been featured in the New York Times, the London Sunday Times, the London BBC, Sirius-XM radio and was the 1st Place recipient of the International Blues Challenge Award (Solo division) awarded by the Blues Foundation in Memphis TN. Walker blends the styles of blues, ragtime, country, blue-grass, rock and old time jazz into his own unique style. Jorma Kaukonen of Hot Tuna and the Jefferson Airplane says "Flat out… you have to hear this great musician… I'm blown away," and Jorma has employed Walker to teach at his famous Fur Peace Ranch Guitar Camp for six years. In 2010, Walker won the NY Music Award for 'Best Instrumental CD,' sharing honors with other winners Mariah Carey, Rufus Wainwright, Judy Collins and more, and is a member of the NY Blues Hall Of Fame. Walker has recently released three instructional guitar DVD's for Homespun Tapes to rave reviews, and his latest CD, What You See Is What You Get, has been hailed as a shining success in the genre of traditional blues recordings. Carnegie Hall acknowledged his talents by hiring him to augment and teach in their "American Roots" program aimed at honor-level middle school students. His passion for blues, rags, folk, and other traditional American music drove him to leave an apartment crammed full of recordings, books and instruments for the Mississippi Delta, Virginia and the Carolinas where he tracked down some of the more obscure but immensely talented music makers of an earlier era. He learned directly from Eugene Powell, James "Son" Thomas, Etta Baker, and R.L Burnside, among others.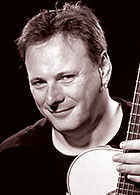 To find a unique voice on so ubiquitous an instrument as the acoustic guitar is quite an achievement. To do so within a centuries-old idiom where the instrument has no real history is truly remarkable. Then to be named by Guitar Player magazine on the list of 50 "Transcendent Acoustic Players of All Time" right between Joni Mitchell and John McLaughlin, is a marvel that even Tony McManus himself can barely comprehend. Over the last 27 years as a professional musician, Tony McManus has come to be recognized throughout the world as a leading guitarist in Celtic music. In Tony's hands, the complex ornamentation normally associated with fiddles and pipes are accurately transferred to guitar in a way that preserves the integrity and emotional impact of the music. His 2002 recording, Ceol More, was Acoustic Guitar's "Critic's Album of the Year" and named "Album of the Year" by the Live Ireland Awards. He is a regular performer at the Chet Atkins Festival in Nashville, and has appeared at guitar festivals in Soave and Pescantina, Italy; Frankston, Australia; Issoudun, France; Kirkmichael, Scotland; Bath and Kent, England; Bochum and Osnabrueck, Germany and five of Steve Kaufman's Acoustic Kamps in Maryville, TN. Born in Scotland with strong Irish roots, he now lives in Canada and travels the world performing in numerous combinations, including intimate solo performances and various duos with friends Alain Genty, Bruce Molsky, and Alasdair Fraser, to the quartet, Men of Steel, with fellow guitarists Dan Crary, Beppe Gambetta and Don Ross.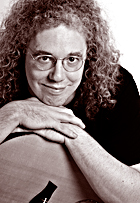 Ranked among the "100 Greatest Acoustic Guitarists" by DigitalDreamDoor.com, Robin Bullock has been hailed as "one of the best folk instrumentalists in the business" by Sing Out! magazine, "breathtaking" by Guitar Player magazine and a "Celtic guitar god" by Baltimore City Paper. His honors include Editor's Pick and Player's Choice Awards from Acoustic Guitar magazine, the Association for Independent Music's prestigious INDIE Award (with the world-music trio Helicon), multiple Washington Area Music Association WAMMIE Awards, a Governor's Award from the Maryland State Arts Council, a bronze medal at the National Mandolin Championships in Winfield, KS and the Gathering's Master Music Maker Award. Robin performs solo, with Guitar Week colleague Steve Baughman, and with four-time National Scottish Harp Champion Sue Richards. He's also played several hundred concerts as a sideman with Grammy Award-winning folk legend Tom Paxton, including four "Together at Last" tours with Tom's fellow Grammy-winner Janis Ian. Robin's discography of nearly two dozen solo, collaborative and group CDs includes the first volume of the Bach Cello Suites on solo mandolin; The Carolan Collection, a compilation of the legendary Irish bard's compositions, sales of which benefit North Carolina animal rescue organizations; and most recently, the straightforwardly-titled An American Guitar Album, focusing on classic American folk songs interpreted on solo guitar. Robin co-hosts the monthly Carolina Celtic concert series in Black Mountain, NC, leads the annual Robinwood Guitar Retreat in Sharpsburg, MD, and teaches guitar and mandolin anywhere in the world via Skype and Zoom. Now a proud resident of nearby Black Mountain, Robin has been an instructor at every Swannanoa Gathering since 1996.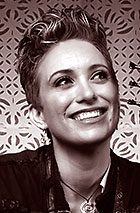 Singer, songwriter and renowned fingerstyle guitarist Christie Lenée is more than a musician – she's an experience. Symphonic compositions flow from her fingertips effortlessly, with sound ranging from transcendental folk-pop to virtuosic instrumentals. Her recent title of "Acoustic Guitarist of the Year 2019" awarded by Music Radar magazine out of the UK, has launched Christie's career to international stardom. Christie is often described as 'Michael Hedges meets Joni Mitchell and Dave Matthews," integrating melodic pop lyricism with catchy hooks and percussive, harmonic textures. As an Official Showcase Artist at Folk Alliance International, consistently logging a number of major festivals, events, opera houses and theaters nationwide, Christie Lenée performs with radiant joy that awes crowds and inspires fellow musicians. She recently told Digital Journal that "years ago, I set my intention to be an inspirational songwriter, although over time I've come to realize that inspiration comes in many forms. Talking about the dark and the light, the beauty and moments of pain are all forms of inspiration." Her International destinations have included Australia, Singapore, Kuala Lumpur, Hanoi, Seoul, Tokyo, Hong Kong, Taiwan, Shanghai, Beijing and several other Chinese cities. In fall of 2019, Christie completed the MusiSHEans trio tour of Europe which included stops in the UK, Paris, Rome, Prague, the Netherlands, Austria and Germany, as well as a 4 city support for Tommy Emmanuel in Poland. Christie has also shared stages with Tim Reynolds (Dave Matthews Band), Andy McKee, and Amy Ray (Indigo Girls) to name a few, who have all raved about her talents. Her first-place victory in the acclaimed 2017 International Fingerstyle Guitar Championship has earned her featured coverage in Guitar Player, Acoustic Guitar, Premier Guitar and Vintage Guitar. She has released five albums, with Stay one of three finalists for "Best CD of 2016" (Indie Acoustic Project Awards). The album includes three instrumentals produced by Grammy Award Winning producer Will Ackerman, founder of Windham Hill Records, and a music video for the title track supporting a movement on suicide prevention. In 2018, Christie released an arrangement of Ed Sheeran's "Castle on the Hill" which garnered media attention across several Digital Publications. AXS.com's Jim Wood noted "through the use of harmonics and tapping, Lenée's infectious style utilizes all parts of the guitar and combines elements of folk, rock and pop into one tasty and eclectic musical stew." During the pandemic, Christie is currently working on a solo album in addition to collaborative tracks with artists such as Tommy Emmanuel, Phil Keaggy and Laurence Juber. In July 2020 she was featured on the Grammy Museum's virtual program streaming from Los Angeles, along with another 4-page article in Guitar Player magazine. With over 17,000 fans on Facebook and over a million plays on YouTube, Christie continues to spread the love of music through live streams, digital airplay and virtual appearances on television stations. As an artist, she hopes to bring joy, freedom, and light to the world though the love of music.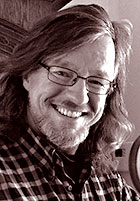 One of digitaldreamdoor.com's "Top 100 Acoustic Guitarists", Steve is a Rounder Records recording artist and a pioneering Celtic and old-time fingerstyle guitarist and banjo player. He produced and plays on the landmark Banjo Gathering double CD, which was recently described by Bluegrass Unlimited as "a momentous undertaking and a 'must' addition to any serious collection of old-time music." He is the author of five guitar books by Mel Bay Publications, a DVD on clawhammer technique called The Power of Claw, and appears on the Rounder Records Celtic Fingerstyle Guitar series. His recordings have made the "Editor's Pick" list at Acoustic Guitar magazine three times and his book, Gospel Songs for Fingerstyle Guitar, was released in 2019 by Stringletter Media. One recent project is the Zen Banjo DVD, produced with Rev. Heng Sure, Director of the Berkeley Buddhist Monastery.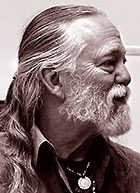 One of our instructors who consistently receives rave reviews regardless of what he's teaching, Scott brings a wealth of musical and historical experience with him into the classroom and takes the community of the Swannanoa Gathering to heart. Coming of age during the Civil Rights era and the protests against the Vietnam War, Scott continues to have a deep reverence for cross-cultural exchange and a commitment to social justice. He is the author of Robert Johnson/At The Crossroads and video teacher on the instructional DVD, Robert Johnson: Signature Licks. With six solo recordings to his credit, Scott's award-winning The Last Shot Got Him has garnered strong reviews here and in Europe.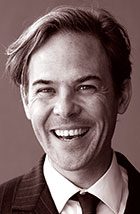 Greg Ruby began playing swing and early jazz music while leading the bohemian life of a busker 25 years ago. He has since become a respected guitarist, teacher and author. Described as "Seattle's premier hot jazz guitarist" by Earshot Jazz magazine, he has performed with Pearl Django, The Hot Club of San Francisco, Andy Stein, Dan Hicks, John Jorgenson, Frank Vignola, Howard Alden and The Tacoma Symphony Orchestra as well as leading numerous groups under his own name. During his tenure with the venerable Hot Club ensemble Pearl Django, his rock-solid rhythm guitar propelled the group through multiple recordings and their debut performance at the legendary Festival Django Reinhardt in Samois-sur-seine, France. His 2010 recording of original compositions in the Hot Club tradition, Look Both Ways, reached #1 on the Roots Music Review radio chart. In 2016, he was awarded arts, heritage and cultural funding for Syncopated Classic, a project which unearthed, restored and recorded the lost compositions by the eminent 1920's Seattle jazz icon Frank D. Waldron. The resulting record was awarded the "Northwest Jazz Recording of the Year" in 2017. His most recent recording, Just Like That, celebrates the music of swing-era guitar maestro, Oscar Alemán. As a teacher, He has taught at Django in June, DjangoFest NW, and is the Coordinator of Guitar Week. He has authored the Pearl Django Play-Along Book Vol.1, Frank D. Waldron: Seattle's Syncopated Classic, the Oscar Alemán Play-Along Songbook Vol. 1 and writes for Acoustic Guitar magazine. In November 2019, Greg moved to New York City – just months before it shuttered due to COVID-19. At the onset of the pandemic, he took the A Train south to Rockaway Beach, NY, where he now lives, surfs, and continues to live a creative life composing, recording and teaching online guitar lessons.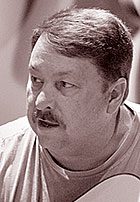 Allen Shadd started playing guitar when he was seven years old.  He grew up traveling with various bands, eventually turning his attention to contests.  Allen is a three-time National Flatpicking champion, winning the title in 1997, 2013,  and again in 2019. He is also a two-time Wayne Henderson guitar competition champion, as well as Merlefest champion, Rockygrass champion and many other state and regional titles are among his awards. Although he has excelled in his contest endeavors, he is equally at home performing  workshops and concerts. He has performed or recorded with many artists, including Tom T. Hall, Claire Lynch, Randy Howard, Peter Rowan, Alan O'Bryant, Jack Lawrence, Jack Pearson, David Grier, Norman Blake, Barry Lee Harwood, T. Michael Coleman, Darin and Brooke Aldridge and many more. He has been featured as an artist and has also authored articles in numerous music publications.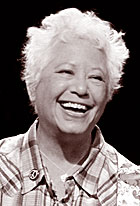 Ten Grammy nominations in eight different categories. Three Grammys, in three different categories, almost forty years apart. What does that mean? "Either I don't do anything well for very long, or I bore easily." Janis Ian wrote her first song at 12, was published at 13, made a record at 14, had a hit at 15, and was a has-been at 16. It's been uphill ever since. Her writer's catalogue includes "Stars", recorded by artists as diverse as Mel Torme, Glen Campbell, and Nina Simone; "Society's Child," which provoked the burning of a radio station and the firing of DJs who played it, "Jesse", and the seminal "At Seventeen", recorded most recently by Celine Dion. The musical guest on the very first Saturday Night Live, her list of interests includes technology (her article "The Internet Debacle" was cited in the Grokster and Napster cases), science fiction (nine short stories published in the field, with "Prayerville" adapted for theatre by Sci-Fest LA), children's books (The Tiny Mouse was a Kirkus Children's Book of the Year), and her own life (her autobiography, Society's Child, was starred by Publisher's Weekly and her narration of it won her another Grammy, for "Best Spoken Word"). A favorite guitarist of the late Chet Atkins, she was also the first female player to have a signature acoustic guitar by a major company (Santa Cruz.) She truly believes artists should know about everything, without limitation, and she hopes passing on some of her own hard-earned knowledge will help others avoid her mistakes – or at least, not care as much about them. We are delighted to welcome Janis back for her fifth Swannanoa Gathering..